Ready for April Fools Day?
April Fools Day is coming. Are you ready for it? I know it's the day after tomorrow. I'm just giving you all a head on, incase you forgot about it. To those who are not so familiar with April Fools Day, here's a short fact about it.

April Fools Day isn't formally considered a holiday but it is certainly a significant day that's observed in numerous nations, every year, on the first day of April. It is a single day for enjoying hoaxes and practical jokes of diverse sophistication on others. The intention of those humor is to bring embarrassment to the easily fooled.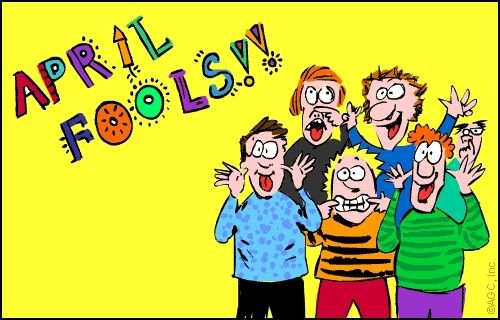 According to superstitions, sensible jokes are meant to be enjoyed before noon, understanding that these which are carried out later on will bring bad luck to the perpetrator. This constraint is broadly dropping it's worth as a superstition as it is believed to have been conspired up by annoyed parents and school teachers who were wanting a respite from the day of pranks, also due to the reality that many major hoaxes in the past have appeared after noon. An additional superstition is the fact that anybody who fails to reply in the proper spirit of tolerance and amusement to the jokes played on them is also stated to become liable to are afflicted by poor luck. Less strong sources indicated that becoming tricked by a fairly woman will be accompanied by marriage, or at bare minimum a friendship with her. That seems like a great deal if she's truly pretty and it is not just April Fools. Like relationships some people believe that being married on April Fools' Day isn't a good concept to get a guy, and that forever within the long term he will probably be dominated by his wife.

The origin of April Fool's day is not obviously recognized, however it is usually accepted to have come about consequently towards the modifications in the calendar system. The brand new Year celebrations utilized to start on twenty five March and last for a week, ending on one April. In 1582, King Charles IX of France introduced within the new Gregorian calendar, through which the brand new yr started on 1 January. Unfortunately, some people didn't listen to about the alter, and many other people simply refused to break the tradition. These individuals grew to become the object of so-called 'fool's errands' and tests of gullibility.

So, are you ready for April Fools day? Brace up for those jokes and lies.

You might be interested to read on some quotations about foolishness and fools I posted two years ago. Click on the link and enjoy those April Fool's Day quotes. You can also share some to your friends via twitter or Facebook.